Here are the latest Amateur Radio news, events, features, and commentary compiled by HQ ARRL
Views expressed in this Amateur/Ham Radio news update are those of the reporters and correspondents.
Content republished with permission of The ARRL.  Copyright ARRL.
Please click link or scroll down to read your selections.  Thanks for joining us today.
If you are having trouble reading this message, you can see the original at:
http://www.arrl.org/arrlletter/?issue=2023-03-16
March 16, 2023
John E. Ross, KD8IDJ, Editor

St. Patrick's Day Radio Event
The Radio Society of Great Britain (RSGB) will host the annual Saint Patrick's Day Award event beginning Thursday, March 16, 2023, 
at 1200 UTC through 1200 UTC on March 18.
The Saint Patrick's Day Award is described as 48 hours of non-competitive fun and allows worldwide participation in all time zones.
RSGB says everyone can participate, even if they are not licensed amateur radio operators.
More details about the event and a registration form can be found on the St Patrick's Day Award website.
Tornado Season and Amateur Radio
Tornado season is fast approaching, and amateur radio operators will again play a key role in helping the National Weather Service (NWS) issue accurate and timely warnings. In fact, March through May is considered the most active period for tornadoes to develop.
The NWS reports there have already been 255 preliminary filtered reported tornadoes and 213 confirmed tornadoes in the United States in 2023. Worldwide, nine tornado-related deaths have been confirmed, all of them in the United States.
January saw the third-highest number of tornado watches and confirmed tornadoes of any January on record in the United States. Additionally, the first two months of the year saw the fourth-highest number of confirmed tornadoes for the first 59 days of any year on record.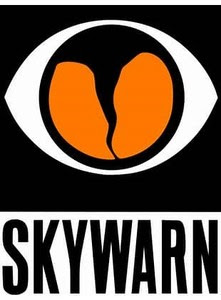 The SKYWARN® (weather.gov) Storm Spotter Program is available to anyone interested in helping the NWS track and report potentially dangerous weather. Anyone can become a SKYWARN weather spotter, and the information is available at the SKYWARN website. Most states have amateur radio networks that are activated during severe weather. Trained volunteers use their radios to report rapidly changing activity and share the information with local weather offices. A list of the states that have scheduled special weather awareness activities can be found at the NWS Awareness and Preparedness Calendar (weather.gov).
The NWS Forecast office in Norman, Oklahoma, uses amateur radio as one method of communicating with spotter groups and emergency management organizations. For decades, amateur radio operators have provided invaluable service in support of the SKYWARN storm spotter program by using their unique communications capabilities to share critical information between the NWS, the local emergency management officials, and storm spotter networks.
In 1999, the NWS, along with ARRL, founded SKYWARN Recognition Day to honor the voluntary contributions of thousands of amateur radio operators who play a critical role in keeping the public safe and informed about severe weather conditions. The day is celebrated on the first Saturday in December, and amateur radio spotters can earn awards for participating.
The 2022 NWS Spotter of the Year Award was given to Bryan Loper, WX5CSS, of Atlanta, Texas. The award noted that Loper is very active with the amateur radio network and weather community within the Arkansas/Louisiana/Texas region, and is always reliably providing weather reports. Loper is an ARRL member.
To learn more about amateur radio licensing and SKYWARN visit ARRL.org.
Dayton Amateur Radio Leader Ron Cramer, KD8ENJ, Silent Key
Ron Cramer, KD8ENJ, of Dayton, Ohio, passed away on Saturday, March 11, 2023.
He was Vice President of the Dayton Amateur Radio Association (DARA) and previously served as its President.
Cramer was General Chairman of Dayton Hamvention®, the world's largest annual gathering of radio amateurs, from 2017 to 2018. In 2017, he was among the Hamvention leadership and team who helped successfully relocate the event to its current venue at the Greene County Fairgrounds and Expo Center in Xenia, Ohio, after 52 years at Hara Arena. In 2019, the event would go on to host the ARRL National Convention in Xenia.
"Ron was one of the most active members of DARA and Hamvention and was extremely well liked and respected," included a message from the DARA Board. "Please keep him and his family in your prayers." Cramer is survived by his wife of 49 years Liz (Ann Mergler).
"I was the Assistant General Chair of Hamvention (Ron's assistant) the year we moved we moved it to Xenia," shared DARA President Jack Gerbs, WB8SCT. "It was a stressful time but it was also a very exciting time for the team. There is no way Ron can ever be replaced. He was a hardworking, dedicated, wonderful person who had a positive impact on everyone he encountered. His only fault was, he would never say no. I am looking forward to catching up to Ron, in that great shack in Heaven! Rest in peace my friend!"
"Ron was a good friend of ARRL, and one of the kindest and most committed member-volunteers I've known throughout my years in amateur radio," said ARRL Director of Marketing and Innovation Bob Inderbitzen, NQ1R. "Ron supported many years of ARRL's participation at Hamvention. Most recently, he coordinated Hamvention's interest in hosting the 2024 ARRL National Convention. He'll be close in the hearts and minds of many of us as the convention is planned. I'll miss him dearly."
An obituary is available from Baker-Hazel & Snider Funeral Home, Dayton, Ohio.
---
Amateur Radio in the News
ARRL Public Information Officers, Coordinators, and many other member-volunteers help keep amateur radio and ARRL in the news.
"Free amateur radio instruction offered in Stillwater" / Twin Cities Pioneer Press (Minnesota), March 6, 2023 — The Stillwater Amateur Radio Association is an ARRL Affiliated Club.
"Amateur radio system expands in Calvert County" / Southern Maryland News (Maryland), March 11, 2023 — The Calvert Amateur Radio Association is an ARRL Affiliated Club.
"Out of this world! Lanai kids get picked for live Q&A with ISS astronauts" / Hawaii News Now (Hawaii), March 14, 2023, –The Lanai Elementary School.

Share any amateur radio media hits you spot with us.
---
ARRL Podcasts
On the Air

Sponsored by Icom
Radio orienteering (aka amateur radio direction finding, or ARDF) is a radio sport like no other. It gets you out of your shack chair and bounding through the woods or a park, using a handheld receiver and directional antenna to find a transmitter that's located somewhere in the vicinity. People of all ages and skill levels can have fun with radio orienteering – and you don't even need a ham radio license to join in. In this episode, we talk to USA ARDF Co-coordinator Charles Scharlau, NZØI, about how to get involved in what he calls, "the only athletic radio sport."
ARRL Audio News
Listen to ARRL Audio News, available every Friday. ARRL Audio News is a summary of the week's top news stories in the world of amateur radio and ARRL, along with interviews and other features.
The On the Air podcast is available on iTunes (iOS) and Stitcher (Android). The On the Air podcast and ARRL Audio News are also on blubrry — On the Air | ARRL Audio News.
---
Announcements
National Vietnam War Veterans Day will be celebrated on March 29, 2023. The event is sponsored by the American Legion Post 275 Amateur Radio Team, N3TAL, based in Glenarden, Maryland. N3TAL will operate as a special event station on 7.275 (+/-) MHz (LSB) on Wednesday, March 29, 2023, and will run from 1800 UTC (1300 EDT) until 2300 UTC (1700 EDT). A special QSL card will be available after making a contact if you send an SASE to:
American Legion Post 275 Amateur Radio Team
8201 Martin Luther King Jr. Highway
Glenarden, MD 20706
Visit the American Legion Post 275 Radio Team website for more information.
---
In Brief…
Charamie Demarco, W5FRM, at Kittredge Magnet School in Atlanta, Georgia, enjoys "first contact" with the International Space Station and students in the Kittredge Magnet School Amateur Radio Club, KQ4KMS. Demarco is a member of the ARISS-USA Education Committee, made an ARISS contact in 2020, and enjoyed giving an ARISS keynote talk in 2022 at the First-Class CW Operators' Club (FOC) Annual Dinner in Florida.
---
The K7RA Solar Update
Tad Cook, K7RA, of Seattle, Washington, reports for this week's ARRL Propagation Bulletin, ARLP011:
Six new sunspot groups emerged over the past week: two on March 9, another on March 10, one more on March 12, and another two on March 14.
Sunspot numbers and solar flux declined this week.
Solar disk image taken March 16, 2023, courtesy of NASA SDO/HMI.
Average daily sunspot numbers softened from 143.6 to 118.7, and average daily solar flux went from 181.6 to 153.6.
Predicted solar flux is 142, 150, 148, 146, 148, and 146 on March 16-21; 160 on March 22-23; 155 on March 24-26; 150 on March 27-28; 145 on March 29-30; 140, 145, 150, 155, and 160 on March 31 through April 4; 165 on April 5-8; 170 on April 9-11, and 175, 180, 180, 175, 170, and 165 on April 12-17.
Predicted planetary A index is 25 and 10 on March 16-17; 5 on March 18-19; 8 on March 20-21; 5 on March 22-23; 12, 16, 26, 18, 10, 8, 24, and 22 on March 24-31; 16 on April 1-2; 14, 12, 8, and 10 on April 3-6; 8 on April 7-8; 5, 8, 22, and 8 on April 9-12; 5 on April 13-14, and 8 and 16 on April 15-16.
Before Friday's bulletin, check out the information on this DR2W propagation modeling site, recently from WB6MPH and last fall, from KB2S:
https://dr2w.de/dx-propagation/
Send your tips, reports, observations, questions, and comments to k7ra@arrl.net. When reporting observations, don't forget to tell us which mode you were operating.
Sunspot numbers for March 9 through 15, 2023, were 155, 135, 126, 135, 87, 97, and 96, with a mean of 118.7. 10.7 cm flux was 178.8, 171.2, 157.4, 150, 143.3, 138.5, and 135.7, with a mean of 153.6. Estimated planetary A indices were 17, 11, 7, 8, 3, 17, and 29, with a mean of 13.1. Middle latitude A index was 14, 10, 5, 6, 2, 12, and 19, with a mean of 9.9.
73,
K7RA
Send your tips, questions, or comments to k7ra@arrl.net.
A comprehensive K7RA Solar Update is posted Fridays on the ARRL website. For more information concerning radio propagation, visit the ARRL Technical Information Service, read "What the Numbers Mean…" and check out the Propagation Page of Carl Luetzelschwab, K9LA.
A propagation bulletin archive is available. For customizable propagation charts, visit the VOACAP Online for Ham Radio website.
Share your reports and observations.
A weekly, full report is posted on ARRL News.
---
Just Ahead in Radiosport
Yearlong — ARRL Volunteers On the Air (VOTA). See also the State Activations Schedule for weekly W1AW Portable Operations including these:
March 15 – March 21 Virginia W1AW/4
March 15 – March 21 Ohio W1AW/8
March 15 – March 21 Arizona W1AW/7
March 22 – March 28 Tennessee W1AW/4
Upcoming Contests:
March 16 -17 — Walk for the Bacon QRP Contest (CW)
March 16 — NAQCC CW Sprint (CW)
March 16 — BCC QSO Party (CW, phone, digital)
March 18 – 20 — BARTG HF RTTY Contest (digital)
March 18 – 19 — Russian DX Contest (CW, phone)
March 18 – 19 — F9AA Cup, SSB (phone)
March 18 — AGCW VHF/UHF Contest (CW)
March 18 – 19 — Virginia QSO Party (CW, phone, Digital)
March 19 — UBA Spring Contest, SSB (phone)
March 20 — Bucharest Digital Contest (digital)
Visit the ARRL Contest Calendar for more events and information.
---
Upcoming Section, State, and Division Conventions
Search the ARRL Hamfest and Convention Database to find events in your area.
---
Have News for ARRL?
Submissions for the ARRL Letter and ARRL News can be sent to news@arrl.org. — John E. Ross, KD8IDJ, ARRL News Editor
---
ARRL — Your One-Stop Resource for
Amateur Radio News and Information
Join or Renew Today! Eligible US-based members can elect to receive QST or On the Air magazine in print when they join ARRL or when they renew their membership. All members can access digital editions of all four ARRL magazines: QST, On the Air, QEX, and NCJ.
Listen to ARRL Audio News, available every Friday.
The ARRL Letter is available in an accessible format, posted weekly to the Blind-hams Groups.io email group. The group is dedicated to discussions about amateur radio as it concerns blind hams, plus related topics including ham radio use of adaptive technology.
Subscribe to…
NCJ — National Contest Journal. Published bimonthly, features articles by top contesters, letters, hints, statistics, scores, NA Sprint, and QSO parties.
Free of charge to ARRL members…
Subscribe to the ARES Letter (monthly public service and emergency communications news), the ARRL Contest Update (biweekly contest newsletter), Division and Section news alerts and much more!
Aloha es 73 de Russell Roberts (KH6JRM)
Public Information Officer
Hawaii County, ARRL Pacific Section