Here are the latest Amateur Radio news, events, equipment reviews, and commentary from the staff of DX Engineering.
Views expressed in this Amateur/Ham Radio News update are those of the reporters and correspondents.
Accessed on 13 July 2022, 2013 UTC.
Content provided by email subscription to "OnAllBands" from DX Engineering.
Source:
Please click link or scroll down to read your selections.
---
Going on Vacation? Great Options for Bringing Ham Radio Along for the Trip (Part 2)
Posted: 11 Jul 2022 01:22 PM PDT
In Part 1 of our series on great gear to take along on a vacation, we looked at HF Portable TransWorld Antennas—a proven option that's ideal if you're operating from your backyard or miles away from home. Today, we'll be exploring a finely constructed magnetic loop antenna that makes another easy-to-transport and simple-to-deploy choice whether you're planning on hitting the road this summer or searching for a reliable way for your signal to get out despite space or HOA restrictions.
AlexLoop HamPack Portable Magnetic Loop Antenna System
As one customer noted, the HamPack—paired with his IC-705—"really does deliver on what it promises." And what it promises is fast setup, easy tuning, amazing portability, and exceptional performance (e.g., a solid signal report from California while operating from Kentucky on 10W SSB). "I honestly don't think my full-size dipole would have done much better on just 10 watts," he added.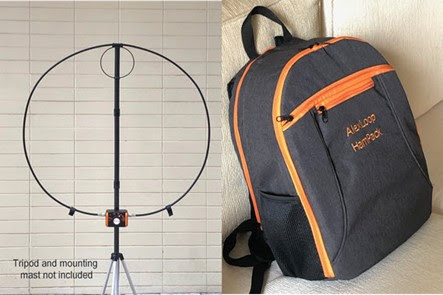 This lightweight QRP system comes with the 40-10M coverage, 3-foot diameter transceive AlexLoop Antenna; custom full-size backpack with two reinforced pouches to accommodate any size QRP rig, antenna, and accessories; upgraded AlexTune tuner for precise and smooth-geared tuning of any frequency between 7 and 30 MHz; and 8.5 feet of coaxial cable with BNC connector for hooking up the radio. The tuner features an LED indicator that makes tuning simple by lighting up when tuned to the ideal position. Benefits include:
Designed and built by Alex Grimberg, PY1AHD, a ham with more than 50 years of amateur radio experience and a passion for portable HF operation
Each system is completely handcrafted by PY1AHD, from the first screw to the final test
Perfect for camping, hiking, SOTA, POTA, IOTA, or while on vacation with the loop mounted in a window or on a balcony
Maximum power handling of 25W PEP SSB; 10W FM/AM and digital
Assembly in the field in under two minutes
Great results: Field tests have yielded hundreds of QRP DX contacts, including a distance world record
What do hams say about the AlexLoop HamPack?
Five Stars: "Have always loved the AlexLoop, but this new model is fantastic. The new tuning box provides more precise and easier tuning than the original and has a band indicator to let you know where you are at with a glance. The included backpack is beautiful and wonderfully designed to carry everything needed for going to the field. I am using the antenna for my base station and even with the loop situated next to a window with aluminum blinds, performance is outstanding. Thank you, Alex. Well done."
Check out this video featuring PY1AHD and his HamPack system:
Visit DXEngineering.com for every amateur radio item you could possibly need for a vacation on the air, including these:
The post Going on Vacation? Great Options for Bringing Ham Radio Along for the Trip (Part 2) appeared first on OnAllBands.
For the latest Amateur Radio news, events, and commentary, please check the blog sidebar, links, and twitter posts.
Reminder:  The Hawaii Amateur Radio Emergency Service (ARES) urges licensed Hawaii Amateur Radio operators to participate in the Saturday, 16 July 2022 (0900-1200 HST) Makani 'Ino Hurricane Emergency Communications Drill. For details, please go here:  http://HawaiiARES.net
Aloha es 73 de Russell Roberts (KH6JRM)
Public Information Officer
Hawaii County, ARRL Pacific Section