Here are the latest Amateur Radio news, events, and commentary from the staff of "DXEngineering.com.'
Views expressed in this Amateur/Ham Radio news update are those of the reporters and correspondents.
Accessed on 10 July 2022, 2128 UTC.
Content provided by email subscription to "DXEngineering.com."
Source:
Please click link or scroll down to read your selections.
---
Going on Vacation? Great Options for Bringing Ham Radio Along for the Trip (Part 1)
Posted: 08 Jul 2022 12:52 PM PDT
For many hams, taking a summer vacation without bringing ham radio gear along isn't much of a vacation at all. If you're planning on making some casual QSOs far from the shack—or perhaps embarking on a mini-DXpedition—you've come to the right place. OnAllBands will be highlighting a few items that are popular with operators who like to mix getting away from it all with getting on the air.
Of course, what gear you'll need to operate will depend on what kind of vacation you have planned. Will you be sipping sparkling water from a champagne flute on the veranda of your tropical bungalow while operating vacation style or roughing it in the deep woods with a stream-water-filled canteen and some deer jerky? Both sound like fun to us, but you'll want to be fully prepared either way.
If your mind is set on having out-of-the-shack experiences in the days ahead, read this excellent article from OnAllBands blogger Mark, K8MSH, "Ham Radio to Go, Portable Hamming." It's full of ideas for what to pack whether you're heading to a cabin on the lake, a weekend at Uncle Joe's, hiking trails, or a hotel room.
For our series on vacation-friendly gear, we'll be kicking it off with the TransWorld Antenna, which, in the words of one satisfied DX Engineering customer, "yields far greater results than its diminutive size would suggest." This comment came after making phone QSOs with stations in Alaska, Alberta, Belgium, Brazil, Bulgaria, California, Moscow, Panama, Spain, Texas, and Venezuela over a week of operation on 20 meters using 100 watts.
HF Portable TransWorld Antennas
These compact, high-performing, and easily portable antenna systems were made for vacations—no matter where you set down temporary roots. DX Engineering has been manufacturing these unique antennas since 2016 when it purchased TW Antennas, ensuring that these small but durable troopers would keep providing hams with DX capabilities they could take just about anywhere. The QSL card below from the 2014 VK9X/K7Co DXpedition shows a TW Antenna that was deployed on Christmas Island.
Planning on roaming no farther than your backyard this summer? TW Antennas (8.25 feet tall, 5 feet wide) are also a great choice for "staycations" and permanent installations. Check out the video below on how easy TW antennas are to set up:
EMBED VIDEO
The stealthy TW Antenna is a basic structure consisting of top, bottom, and tee sections with an interchangeable array box center section that can be purchased separately for the bands you want. While there are multiple combinations, DX Engineering makes it simple by offering these packages:
Visit DXEngineering.com for all TransWorld Antenna packages and accessories, along with other vacation-ready items you'll want to consider:
The post Going on Vacation? Great Options for Bringing Ham Radio Along for the Trip (Part 1) appeared first on OnAllBands.
Grounding and Bonding for Portable Amateur Radio Stations
Posted: 08 Jul 2022 12:43 PM PDT
Operating from a temporary setup—in a park, on a summit, from a rare grid or county, or for a special event—has become very popular. This is a great thing for ham radio! Being able to operate effectively from "the field" is key to fulfilling the emergency communications mandate in our Basis and Purpose. I expect to see more and more portable operation as programs like Parks On The Air (POTA) grow.
Creating a temporary station involves managing power and getting all of the equipment connected together. There are two basic needs to get right: generator power safety and RF management. (Batteries have their own challenges not addressed here.) My advice here follows the more detailed guidelines in the ARRL book, Grounding and Bonding for the Radio Amateur.
Generator Power Safety
While battery power is becoming more convenient and capable, the gas-powered ac generator is still very common for portable operation. Highly engineered, they offer relatively trouble-free operation. Even though they incorporate safety features at multiple levels, there are still basic safety concerns you should be aware of and respect. Avoiding shock hazards should be a top priority for individuals or clubs.
Generators that can be moved from one place to another by a person are considered "portable" by the NEC (National Electrical Code). A "mobile" generator is capable of being moved on wheels or rollers and includes generators mounted in a vehicle. (These are multi-kW units much larger than commonly used by hams.) Two portable generators are shown above. Even though the generator at right has wheels, it is designed to be moved by one person and is considered portable.
At left is a 1,600-watt inverter generator (the A-iPower SUA2000I) that weighs 46 pounds and can be carried by one person. At right is a 4,000-watt generator, the AP4000 from the same company. Both deliver 120 VAC and have circuit-breaker protection on all of their outputs. Both have ground terminals—is a ground rod required?
According to the NEC (see article 250.34), a ground rod or other similar Earth electrode is not required for portable generators as long as:
The generator has receptacles mounted on the generator panel, and receptacles have equipment grounding terminals (the ground pin of an ac receptacle) that are bonded to the frame of the generator.
This means the frame of the generator, whether you can touch the frame (like the wheeled generator) or not (like the insulated inverter generator), serves as the grounding (meaning voltage reference) point for any connected equipment. Equipment must be connected to the generator through a three-wire power cord. Any exposed metal of that equipment must be connected to the ground wire of the power cord. That connects the enclosures of properly constructed equipment to the frame of the generator. No special connections are required and the system's "ground" doesn't have to be "the Earth."
So, you don't have to have a ground rod either at the generator or at the powered equipment (i.e., your portable station). What if you decide to use one anyway? A single ground rod at the generator or the station is okay and doesn't create any hazards. It's also common to put one ground rod at the generator and one at the station. In that case, it is an NEC requirement (not optional!) that all ground rods be bonded together. This protects you against hazardous voltages created by current flowing through dirt instead of a copper ground conductor.
That bonding requirement means it's really important your power cord be in good shape and the plugs and receptacles are not worn or loose. If there is any question, get a new cord, replace plugs or receptacles, do whatever is needed to ensure all connections are in good shape.
A tip from a veteran of numerous Field Days and portable setups is to secure the power cord at each end. Tie the cord to a tent stake, the generator frame, or even a ground rod so that if someone trips over the cord, for example, the powered equipment isn't dragged off the operating position. If you have a very long cord, consider securing the cord along its length, as well. The same goes for long coaxial cables to antennas. If people are moving around near cables, expect they will snag one sooner or later—take appropriate protective steps.
Water is another enemy of ac power safety in portable stations, usually in the form of rain. Most modern generators are at least partially protected against rain "getting into" their circuitry. Many have GFCI-protected outlets, as well. But don't assume that's enough—cover or protect your generator against rain. Puddles and standing water can make a substantial splash, too.
At your station, protect your ac power strips and any outlets. Consider using a GFCI-protected outlet like the Morris 89008 shown at right. A wide range of products are available. You can even make your own "GFCI-In-A-Box" in a waterproof outlet as shown at left.
RF Management
Another common problem in portable stations is RF interference from transmitted signals. At home in a fixed station, you can build in protection against RFI in many ways. In a portable station, however, you are definitely more exposed and problems can crop up. What to do?
First, recognize that you are pretty close to your nearby antennas. There are many pictures of operators sitting at a picnic table with a vertical or loop nearby. Others have a wire antenna like an End-Fed Half-Wave (EFHW) overhead. Operating on the HF bands, you are probably less than one wavelength from the antenna and will experience strong RF fields at your station. (See the ARRL's web site on RF exposure to learn about minimum safe distances for various power levels and frequencies. You'll need to plan for setting up a station in that environment.
You might get lucky—throw your equipment on a table, hook up the cables, and have no RFI whatsoever. HF transceivers are pretty good at keeping RF from getting where it shouldn't be, but there are some weak spots in their armor. Computers and accessories can be very susceptible to unwanted RF, too.
To manage that RF, bonding is your best friend. Bonding only means connecting equipment together to keep it at the same voltage. What the voltage is with respect to the Earth doesn't really matter, it's the voltage differences that count. A voltage difference causes current to flow. It's that RF current getting where it shouldn't be that causes RFI. If you can reduce the voltage differences through bonding, you can reduce the current, too.
Bonding sounds expensive, but it's not. If you have some heavy wire (#14 from scraps of ac power cable will do nicely) or flat-weave metallic braid, you have most of what you need. Each piece of radio equipment with an exposed metal enclosure will have some way of connecting the bonding conductor to it. Even antenna switches will have a mounting hole you can use. If you can't find a hole, use alligator clips on the jumpers—remember, this is temporary!
Connecting the equipment together can be done directly with bonding jumpers as shown below. (Graphic provided courtesy of the ARRL.) Keep the jumpers short and straight. If you are using a ground rod, pick one point, such as the amplifier or the transceiver, to connect to it. If you are not using a ground rod, just ensure that the equipment enclosures are connected to the ac safety ground, usually via an ac supply power cord.
Laptop computers aren't generally designed to be bonded to anything. (The motherboard ground is often connected to threaded video connector screws.) For a desktop-style PC, you can generally find a connection on a metal rear panel or where the power supply screws attach. Computer mice, keyboard, and USB cables can pick up a lot of RF so be sure to take several ferrite toroids or clamp-on cores (type #31 for HF) in your kit. Use the shortest cables you can and wind the rest on the ferrite core.
Pay special attention to the audio cables going to and from the computer sound card if you are going to be using any of the digital modes like FT8. It doesn't take much RF getting into the low-level audio to create problems. Be sure the cables are properly shielded and, if necessary, bond the computer and transceiver together. Ferrite cores are useful here, too.
Another veteran tip is to create an RF "reference plane" by using a metal table or surface for the operating position. Then attach the equipment enclosure to the metal with short wire jumpers and alligator clips. If you don't have a metal table, just place a sheet of aluminum foil on the table before setting the equipment on it. Clip the equipment to the foil with jumpers and clips. When you're done, roll up or recycle the foil! Whichever method you use, be sure the reference plane is connected to the ac power source ground, as well.
"Hot spots" can be a problem in temporary stations, even with bonding. They occur where your station equipment layout creates a high-impedance point, excited by the strong RF field. It always seems to be at the end of a microphone or a CW key—OUCH! Cut a quarter-wavelength wire (234/f is close enough in feet) for each band on which a hot spot occurs. Insulate one end and attach the other to an alligator clip and attach the wire at the point of the hot spot. Keep the open end of the wire where it can't be touched or stepped on. Even QRP operation is sufficient to create enough voltage at the open end for a tingle, and the voltage from 100-watt operation can actually set grass or leaves on fire! So be careful where you run the detuning wire.
What About Lightning?
It is not reasonable to expect a temporary installation to provide lightning protection. Disconnect or lower antennas if there is any chance of lightning occurring in the vicinity. If antenna cables are disconnected, place their ends well away from people and equipment. A lightning detector, such those available from Weather Shack or other vendors, is a good idea. Lightning monitoring apps such as www.blitzortung.org are available for smartphones, tablets, and PCs. If lightning is in your area—which can be a radius of up to 10 miles—get off the air and protect yourself.
And who doesn't yearn for that perfect hilltop site with clear propagation in all directions? Summits On The Air (SOTA) veteran Steve Galchutt, WGØAT, and his pack goats have operated from many a high place. I asked him about lightning safety when operating on the trail. "If dark clouds are in the area I pack up and without delay head for cover. While SOTAteering, once I hear that familiar snap-crackle-pop in my receiver, I hurry up and finish the pileup (sometimes QRTing immediately!) and begin to hasten my tear down to get ready to head down to lower elevations. Mother Nature Rules! She will beat you! Pay her respect and you will keep breathing!"
The post Grounding and Bonding for Portable Amateur Radio Stations appeared first on OnAllBands.
EMCOMM: What is the Simulated Emergency Test (SET)?
Posted: 08 Jul 2022 12:37 PM PDT
The annual Simulated Emergency Test (SET) is a training exercise involving the Amateur Radio Emergency Service (ARES) and the National Traffic System (NTS), a message-handling service of amateur radio. The American Radio Relay League is a main supporter of this event, which is organized a bit like a contest. Its primary purposes are to evaluate strengths and weaknesses in emergency communications and preparedness, and to demonstrate ham radio to the public.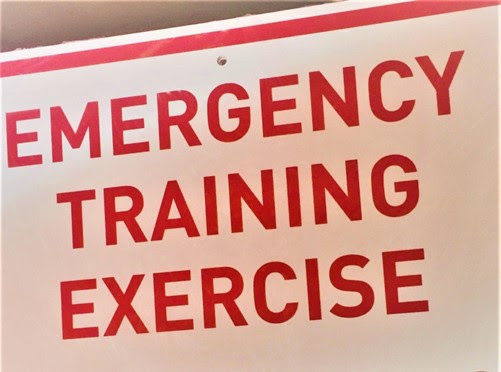 During the first full weekend of October each year in the United States, a nationwide radio communications network is set up that links every major city and most of the country. This technological infrastructure is set up from scratch within a few hours at locations that vary throughout served agencies, from state and local government Emergency Operations Centers to rural and isolated areas without any utilities. Every mode of radio communications is used including analog, digital, voice, data, simplex, duplex, satellites, and even automated relay stations launched by aircraft and weather balloons. For no more than 48 continuous hours, this nationwide radio communications network tests the emergency system's readiness and capabilities. As quickly as it was set up, the system is dismantled and stored in preparation for when it may be needed. The system has shown its value during earthquakes, hurricanes, forest fires, terrorist attacks, and other disasters. This service is provided by capable volunteers who use exercises such as these to hone their technical skills and acquire, build, and maintain their own equipment. These radio operators and their equipment are an important resource for emergency communications.
The SET encourages maximum participation by all radio amateurs, partner organizations and national, state, and local officials who typically engage in emergency or disaster response. In addition to ARES volunteers, those active in the National Traffic System, Radio Amateur Civil Emergency Service (RACES), National Weather Service (NWS) SKYWARN, Community Emergency Response Team (CERT), and a variety of other allied groups and public service-oriented radio amateurs are needed to fulfill important roles in this nationwide exercise.
According to ARES (see chapter 2 of document), the flow of the SET is as follows:
SET Format
The scoring format reflects broad objectives and encourages recruitment of new hams and the use of digital modes for handling high-volume traffic and point-to-point Welfare reports from the affected simulated-disaster area. Participants will find SET an opportunity to strengthen the VHF-HF link at the local level, thereby ensuring that ARES and NTS are working together. The SET will give all levels of NTS the chance to handle exercise-related traffic. The guidelines also recognize tactical traffic on behalf of served agencies.
ARES units and other groups are free to conduct their SETs anytime between September 1 and November 30 if an alternative date to the designated weekend is preferred. The activity period should not exceed 48 hours. The deadline for ARRL HQ receipt of all reports is the following January 31. A complete array of reporting forms are automatically mailed to affected ARRL Field Organization appointees, and can be furnished to other groups upon request.
Preparing for SET
Emergency Coordinators sign up all available amateurs in their area and work them into the SET plans. They make special efforts to attract new hams as potential ARES members.
A meeting of all ARES members and prospective members is called to briefly outline SET activities and give general instructions. ECs contact served agencies and explain the intent and overall purpose of the SET, offer to send test messages to other branches of their agencies, and invite officials to ARES meetings and SET operating sites. Publicity is arranged in consultation with an ARRL Public Information Officer with local newspapers and radio/TV stations.
During the SET
The "emergency" situation is announced and the emergency net is activated. Stations are dispatched to served agencies. Designated stations originate messages on behalf of served agencies. Test messages may be sent simulating requests for supplies. Simulated emergency messages (just like real emergency messages) should be signed by an authorized official. However, it is vitally important that all test messages be preceded and ended with a statement to the effect that it is a "drill," "practice," or "simulated" message. Otherwise, members of the public or news agencies with scanners might mistake the messages for the real thing. Tactical communications for served agencies is emphasized.
At least one session (or substantial segment of a session) of a normal local net should be conducted to directly simulate emergency communications. For instance, if a repeater is on emergency power, only emergency-powered stations should be allowed to operate through the repeater for a certain time period.
After the SET
An important post-SET activity is a critique session to discuss the test results. All ARES (and RACES) members should be invited to the meeting to review strengths and weaknesses made apparent in the drill.
NTS in SET
The main function of NTS in an emergency situation is to tie together all of the various local activities and to provide a means by which all traffic destined outside of a local area, section or region can be systematically relayed to the addressee.
The interface between NTS and ARES lies in the liaison function between local nets and other NTS nets, particularly at the section level. Responsibility for representation of the local network on the section net lies with the local net manager who may or may not be the EC.
At least one net session or substantial segment of a session should be conducted on emergency power. A surprise session or two should be conducted.
Preparation is Important: Steps for the Emergency Coordinator
Sign up all available amateurs in the area under your jurisdiction and work them into your SET plans.
Call a meeting of all ARES members and prospective members to briefly outline (no details!) SET activities and give general instructions. Do not divulge the exact time or nature of the test to them at this time. This should come as a surprise. Take this opportunity to register new ARES members and get up-to-date information on others. Hold an on-the-air meeting if it's not possible to meet in person.
Contact served agencies and explain the intent and overall purpose of the SET. Offer to send test messages to other branches of their agencies and invite officials to your ARES meetings and SET operating sites.
Contact officials of any adjacent communities having no active amateurs and offer to provide representation in amateur networks for them as well.
Arrange publicity in consultation with an ARRL Public Information Officer in local newspapers and radio/TV stations by preparing an announcement and/or inviting the press to observe your group's SET operation.
Set up liaison with one or more NTS local/section nets (if you don't already have liaison) so you will have an outlet for all messages out of the local area.
Formulate your plans around a simulated disaster. Possible "plots" include a flood, a serious fire, an ice storm, a missing person, a serious accident (automobile, bus, aircraft, for example), a broken gas line, and so forth. Elaborate on the situation by developing a scenario, but please be realistic.
The SET offers volunteers an opportunity to test equipment, modes, and skills under simulated emergency conditions and scenarios. Individuals can use the time to update a "go-kit" for use during deployments and to ensure their home station's operational capability in an emergency or disaster. To get involved, contact your local ARRL Emergency Coordinator or Net Manager.
Questions? Share them in the comments below or email me at KE8FMJ@arrl.net.
The post EMCOMM: What is the Simulated Emergency Test (SET)? appeared first on OnAllBands.
Hawaii Island Amateur Radio News:
The Hawaii Amateur Radio Emergency Service (ARES) urges licensed Hawaii Amateur Radio operators to participated in the Saturday, 16 July 2022 (0900-1200 HST) Makani 'Ino Hurricane Emergency Communications Drill.  For details, please go here:  http://HawaiiARES.net
Aloha es 73 de Russell Roberts (KH6JRM).
Public Information Officer
Hawaii County, ARRL Pacific Section