Here are the latest Amateur Radio news, events, and commentary compiled by "The ARRL Letter."
Views expressed in this Amateur/Ham Radio News summary are those of the reporters and correspondents.
Accessed on 08 April 2022, 0515 UTC.
Content provided by HQ ARRL, Newington, CT, 06111.
Source:
Please click link or scroll down to read your selections.
If you are having trouble reading this message, you can see the original at:
http://www.arrl.org/arrlletter/?issue=2022-04-07
World Amateur Radio Day is April 18
World Amateur Radio Day (WARD) is April 18 and is celebrated worldwide by radio amateurs and their national associations, which are organized as member-societies of the International Amateur Radio Union (IARU).
It was on this day in 1925 that the IARU was formed in Paris. American Radio Relay League (today, ARRL The National Association for Amateur Radio) co-founder Hiram Percy Maxim was its first president.
"On World Amateur Radio Day, all radio amateurs are invited to take to the airwaves to enjoy our global friendship with other amateurs, and to promote our skills and capabilities to the public," said Bob Inderbitzen, NQ1R, ARRL Director of Public Relations and Innovation. "Use the backdrop of World Amateur Radio Day to describe and demonstrate ham radio to family, friends, and co-workers." While WARD falls on a Monday this year, Inderbitzen encourages amateurs and radio clubs to extend the celebration to include the weekend, or even all week. "Some radio clubs will even seek a proclamation from their town or state government, designating the period to recognize the contributions of radio amateurs to our communities, and the overall importance of our Amateur Radio Service," he said.
ARRL reports that there are more than 775,000 hams in the US. ARRL also supports a nationwide network of 2,400 affiliated radio clubs. "Radio clubs provide opportunities for newcomers to discover radio and to become ham radio operators," said Inderbitzen. "Clubs develop the personal radio communications capability of their members, operating together or from their home stations, in portable settings, and from nearly anywhere." Inderbitzen also highlighted that among the primary purposes of the Amateur Radio Service is to enhance international goodwill. "Radio amateurs use radio signals, which reach beyond borders, to bring people together culturally while providing essential communication in service to their communities."
More information and resources for participating in and promoting World Amateur Radio Day, can be found at:
Use the ARRL Special Event Stations listing to find on-air events by entering "World Amateur Radio Day" in the keyword search. On social media, use the hashtags #WorldAmateurRadioDay, #hamradio, and #ARRL.

Canada's ISED Has Granted Hams the Right to Use Special Call Signs in Honor of Queen Elizabeth II's Platinum Jubilee
In honor of Queen Elizabeth II's 70 years on the throne (her Platinum Jubilee), Innovation, Science and Economic Development Canada (ISED) has approved the use of special call signs for Canadian hams from May 15 to July 14, 2022. These dates correspond with the busy early summer operating season and will be available to all Canadian amateurs who wish to use the special call signs on all occasions, including ARRL Field Day, the June VHF Contest, the RAC Canada Day Contest, and the IARU World Championship. See the Special Event Listing on the Government of Canada website.
AMSAT at Dayton Hamvention — Call for Volunteers
Dayton Hamvention® is 6 weeks away! AMSAT has issued a call for volunteers and could use another 10 – 15 people, regardless of their experience level with satellite communications. 2022 Hamvention is May 20 – 22 in Xenia, Ohio. The interaction with AMSAT members, satellite operators, designers, and builders make the whole experience a lot of fun. You can meet or renew acquaintances, exchange operating tips, and find out what antennas, software, and equipment other AMSAT members use.
Please send an email to Phil Smith, W1EME, if you can help.
Shane Siggins, G6WBS, Achieves SOTA Mountain Goat Status
Shane Siggins, G6WBS, from Preston, Lancashire, has achieved Mountain Goat status in the Summits on the Air (SOTA) award program, reaching 1,000 activator points. He has made the vast majority of his contacts on 2-meter FM. Siggins reports feeling "part of a very special community," with a loyal band of recognized chasers being contacted on most activations, and expresses appreciation to the program for encouraging him to explore lots of new hills and mountains.
Siggins has enjoyed the company of his partner on most activations, who joins in with route planning, antenna assembly, and other activities. They are now looking forward to some SOTA activations further afield, including abroad.
For more information about SOTA, visit www.sota.org.uk.
ARRL Employment Opportunities
ARRL is seeking candidates for job opportunities at its headquarters in Newington, Connecticut. Available positions include Director of Information Technology, Public Relations & Outreach Manager, Social Media Strategist, and others.
ARRL Human Resources Manager Luci Goodwin explained that some of the jobs are brand-new positions, established to help advance the association's ongoing digital transformation across membership programs, services, and publishing. "Some of the positions are responsible for increasing awareness and growth of amateur radio," said Goodwin. "A new program area will expand ARRL's visibility in promoting ham radio to the public and through our outreach to like-minded communities."
A list of open positions, including the responsibilities and qualifications for each job, is posted at www.arrl.org/careers. Employment opportunities are available for candidates with or without an amateur radio license. "We're always on the lookout for experienced radio amateurs who want to contribute their passion for ham radio to the ARRL HQ team," added Goodwin. To apply, submit your resume to ARRL Human Resources. ARRL is an equal opportunity employer.
---
ARRL Podcasts Schedule
The latest episode of the ARRL On the Air podcast (Episode 27) features an audio tour of the 10-meter band.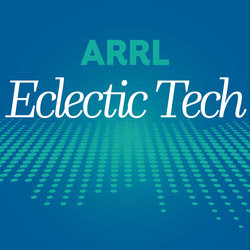 The latest edition (Episode 57) of the ARRL Eclectic Tech podcast features an interview with Carl Nord, WA1KPD, about experiments he has been doing with WSPR at very low power levels.
The On the Air and Eclectic Tech podcasts are sponsored by Icom. Both podcasts are available on iTunes (iOS) and Stitcher (Android), as well as on Blubrry — On the Air | Eclectic Tech.
---
Amateur Radio in the News
ARRL Public Information Officers, Coordinators, and many other member-volunteers help keep amateur radio and ARRL in the news.
Share any amateur radio media hits you spot with us.
---
Announcements
---
The K7RA Solar Update
Tad Cook, K7RA, Seattle, Washington, reports:
A lot of solar activity livened up HF conditions over the past reporting week, March 31 to April 6. Average daily sunspot number rose from 90.1 to 94.6, and daily solar flux from 132.7 to 135.3.
A new sunspot group appeared on March 31, two more on April 1, another on April 2, one more on April 3, and another on April 5.
Predicted solar flux is 116, 115, 118, 112, and 110 on April 7 – 11, 108 on April 12 – 14, 120 on April 15 – 17, 125 on April 18 – 19, 130 on April 20 – 23, 140 on April 24 – 28, 135 on April 29 – 30, 130 on May 1, 120 on May 2 – 3, 125 on May 4 – 5, 120 on May 6, 115 on May 7 – 8, and 110 on May 8 – 9.
Predicted planetary A index is 25, 12, 15, 10, and 8 on April 7 – 11; 5 on April 12 – 19; 10 on April 29 – 21; 5, 15, 10, and 8 on April 22 – 25; 5 on April 26 – 28; 18, 12, 10, and 8 on April 29 through May 2; 5 on May 3 – 7, and 12 and 10 on May 8 – 9.
Sunspot numbers for March 31 through April 6, 2022 were 84, 109, 118, 129, 86, 75, and 61, with a mean of 94.6. The 10.7-centimeter flux was 149, 3, 146.6, 143.3, 140.2, 128, 122.4, and 117, with a mean of 135.3. Estimated planetary A indices were 27, 17, 22, 10, 11, 6, and 8, with a mean of 14.4. Middle latitude A index was 18, 12, 19, 7, 8, 6, and 6, with a mean of 10.9.
A comprehensive K7RA Solar Update is posted Fridays on the ARRL website. For more information concerning radio propagation, visit the ARRL Technical Information Service, read "What the Numbers Mean…," and check out the Propagation Page of Carl Luetzelschwab, K9LA.
A propagation bulletin archive is available. For customizable propagation charts, visit the VOACAP Online for Ham Radio website.
Share your reports and observations.
A weekly, full report is posted on ARRL News.
---
Just Ahead in Radiosport
Visit the ARRL Contest Calendar for more events and information.
---
Upcoming Section, State, and Division Conventions
Search the ARRL Hamfest and Convention Database to find events in your area.
---
Have News for ARRL?
Submissions for the ARRL Letter and ARRL News can be sent to news@arrl.org.
---
ARRL — Your One-Stop Resource for
Amateur Radio News and Information
Subscribe to…
Free of charge to ARRL members…