Welcome to the Big Island ARRL News update. Views expressed in this Amateur/Ham Radio news summary are those of the reporters and correspondents.  Content supplied by HQ ARRL, 225 Main Street, Newington, CT, 06111.
Accessed on 15 October 2019, 0145 UTC, Post 1158.
Source:
Please click link or scroll down to read your selections.
Bidding in ARRL On-Line Auction set to begin on October 17, 2019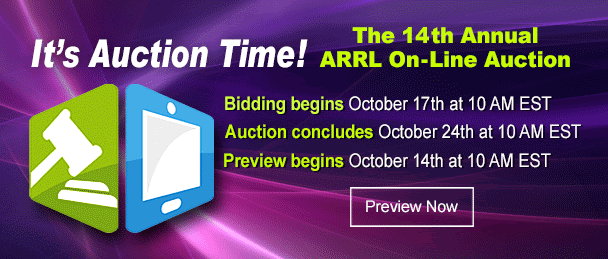 More than 230 items will be on the block as bidding gets under way on Thursday, October 17 at 10 am Eastern Standard time, for the 14th Annual ARRL On-Line Auction. The auction will continue through Thursday, October 24, closing at 10 pm Eastern Standard time. An auction preview opens on Monday, October 14th.

The 2019 auction includes lab-tested QST "Product Review" gear, vintage books, used equipment, and one-of-a-kind items, plus the ARRL Lab team has contributed four of the very popular "mystery boxes."

Some premier "Product Review" items up for bid include the Elecraft KAP 1500 Legal-Limit HF and 6-Meter Linear Amplifier, ICOM IC-7310 HF and 6-Meter Transceiver, Palstar LA-1K 160-6 Meter Amplifier, FlexRadio Systems FLEX-6400M HF and 6-Meter SDR Transceiver and many more items.

The auction also will offer items donated from the popular television series "Last Man Standing," starring Tim Allen, an actual radio amateur who portrays the fictional Mike Baxter, KA0XTT, in the show, which has featured ham radio in some episodes.

Among book offerings in the auction are the "sold out" 2019 ARRL Handbook Boxed Set, a special defense edition of The Radio Amateur's Handbook from 1942, and a 1949 ARRL Antenna Book.

Proceeds from the annual On-Line Auction benefit ARRL education programs. These include activities to license new hams, strengthen Amateur Radio Emergency Service® training, offer continuing technical and operating education, and create instructional materials.

All bidders must register (your arrl.org user ID and password will not work on the auction site). If you have registered for a previous ARRL On-Line Auction, you may use the same log-in information. If you have forgotten your user ID or password, click on the "Help" tab for instructions on how to retrieve these credentials. Make sure your correct address and other information are up to date. The auction site only accepts Visa and MasterCard.
---
Hawaii Island Amateur/Ham Radio News:
The National Weather Service is offering Skywarn Storm Spotter Training on Wednesday, 15 October
2019, at the Mokupapapa Discovery Center in Hilo.  The class run from 1000-1200 HST.  For more
information, please go here:
Doug Wilson (KH7DQ) is offering one more free Technician License Class this year. The new class
begins on Thursday, 17 October 2019, at the Keeau Community Center.  For details, contact Doug at
For the latest Amateur/Ham Radio news and information, please check the blog sidebars and links.
These news feeds are updated daily and weekly.
Aloha es 73 de Russell Roberts (KH6JRM)
Public Information Coordinator
Hawaii County, ARRL Pacific Section