Welcome to the Monday evening update from "Big Island ARRL News".  Views expressed in this Amateur/Ham Radio News summary are those of the reporters and correspondents.  Content provided via email from HQ ARRL, Newington, CT, 06111.  At the end of this message, I'll include a few upcoming events for Hawaii Island radio amateurs.
Accessed on 05 February 2019, 0440 UTC, Post 860.
Source:  http://www.arrl.org
Please click link or scroll down to read your selections.
Dayton Hamvention® will host the 2019 ARRL National Convention in Xenia, Ohio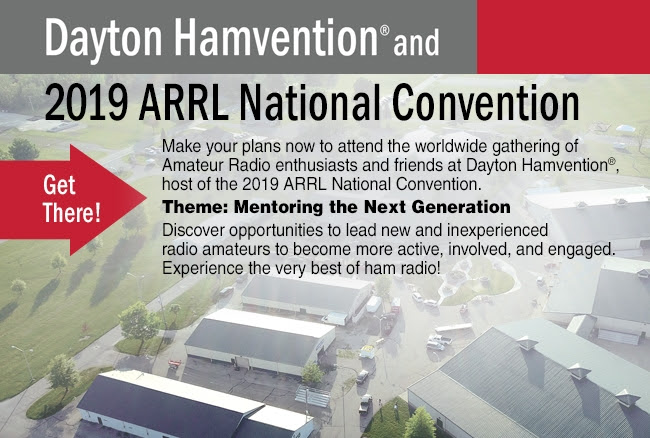 Save the Date
May 17 – 19, 2019
Greene County Fairgrounds and Expo Center
Xenia, Ohio


Tickets
$22 advance $27 at gate
Includes admission
for all three days
www.hamvention.org


.Featuring
Exhibits and Flea Market
Forums and Activities
Networking
…and more!

About this Email: 
This message was sent to all current ARRL members, announcing the 2019 ARRL National Convention.

---
Hawaii Island Amateur/Ham Radio notes:
Doug Wilson (KH6DQ) is beginning another series of free Technician License classes on Hawaii Island,  The first class is set for Friday, 08 February 2019, 1830 HST, at Hilo's Aupuni Center.  The six-week classes include five training sessions, with licensing exam given on the final week.  More classes will follow in other parts of Hawaii Island.  I'll keep you updated as to times and places.  For more information, contact Doug via email:  douscelle@aol.com.
The Puna Emergency Radio Club (PERC) needs licensed Hawaii Island radio amateurs to provide communications support for the Sunday, 17 March 2019 Big Island International Marathon in Hilo, Hawaii.  If you can help, please call Sean Fendt (KH6SF) at 430-1884 or contact him via email:  sean@sfendt.net.
Alan Maenchen (AD6E/KH6TU) is now taking registrations for his April 2019 online CW class.  According to Alan, the class "is an on-line video chat meeting twice a week for eight weeks for an hour each.  Exact days and time could change depending on student availability.  Since this is an internet based virtual classroom, no commute is needed. You can do this from home.  Technician class hams con participate and practice their skills on their 80, 40, 15 and 10 M CW allocations.  For details, please go to this website:
http://https;//cwops.org/cw-academy-2/
For the latest Amateur/Ham Radio news and information, please check the blog sidebars and links.  These news feeds are updated daily and weekly. Thanks for joining us today.
Aloha es 73 de
Russell Roberts (KH6JRM)
Public Information Coordinator
Hawaii County, ARRL Pacific Section
https://atomic-temporary-116934757.wpcomstaging.com